Planning for Better Services
Planning for services for people with learning disabilities is built around some key principles:
needs must be identified
service users/carers must be involved
different local conditions must be recognized
different agencies and groups must work in partnership
services and resources must be directed at those with greatest needs
The Council and Abertawe Bro Morgannwg University Local Health Board (the 'Commissioners') have the responsibility to decide on Strategic direction for Clinical Specialist Health provision within Cardiff and Vale
Parents can play a vital role in influencing the shape and level of services that carers and people with a learning disability are offered.
It is vital that parents are able to speak with one voice and ensure that they are listened to at all key planning forums- by lobbying and highlighting what is needed at ground level.
An essential consideration when reviewing or planning for new opportunities or services is that we ensure quality and safety. Care standards are paramount and the Social Services and Well Being Act  places duties upon local authorities to ensure that certain steps are taken
We recently had a 5 year strategy agreed by Cardiff and the Vale of Glamorgan councils and the local health board. You can read the draft version here
Codes of Practice and Statutory Guidance
Codes of practice provide guidance, backed by law, to help people and organisations work within the new framework created by an Act.
You can find links to the codes of practice issued under Section 145 of the Social Services and Well-being (Wales) Act 2014 below.
Local authorities must act in accordance with the codes of practice and their requirements when exercising their social services functions.
http://www.ccwales.org.uk/codes-of-practice-and-statutory-guidance/
Commissioning Principles
New guidelines have been set out that should underpin the way that statutory bodies go about commissioning services for people with a Learning Disability or Autism. Two easy to follow documents have been published that give a clear overview of the aims of commissioning as well as explanations and examples of good practice to follow. Parent carers will find this information useful and it might help you if you find yourself having to advocate for your relative. Being able to refer to best practice when advocating for your child will strengthen your position!
Commissioning Services for People with a Learning Disability - Good Practice Guidance
Local Planning Groups
In addition to local or neighbourhood planning, a small number of cross county planning or advisory groups are supported. These will look at issues that are county wide such as health, disability, children and older people services that respond to statutory obligations.
These Planning structures are in the process of changing and some details are still undecided. Various networks and forums have an  opportunity to be represented on more than one group in order that 'cross cutting' issues can be addressed. Recommendations that are fed through this process should influence decision making at the overarching Health Board.
Joint Planning across Cardiff and Vale of Glamorgan
In recent years, steps have been taken to promote the closer working of services for adults with a learning disability in both counties.
This is overseen by a single Operational Manager and service users and carers views are ensured by participation in a joint cross county strategic planning framework.
Cross county issues can be discussed here and initiatives or proposals that may benefit service users living in either county can be promoted.
Integrated Health & Social Care Board
Consisting of representatives from Health, Cardiff Council, the Vale of Glamorgan Council and the Voluntary sector, the Health and Social Care Board brings the partners together in making decisions on how to to design and implement integrated care to meet the needs of local people.
Cardiff and Vale Carers Support and Information Network Group (CSING)
The Cardiff and Vale CSING is an extension of the existing Vale CSING which has operated for some time. CSING aims to bring together a range of sectors, agencies and organisations providing services for carers and provide a forum for sharing information, promoting partnership working, sharing good practice and raising issues relating to services for carers and the cared for.
Planning structure for Learning Disability Services in Cardiff and Vale of Glamorgan
Planning for services across the two counties has been streamlined in order to ensure that decisions can be better informed and involve all stakeholders.
An overarching Learning Disability Partnership Board consisting of senior representatives from Local Authorities and Health Boards make final decisions on polices and finances.
This Board is informed by a cross county Learning Disability Regional Decision Making Board that takes into account evidence drawn from several work stream groups that cover Strategy, Day Opportunities, Integrated Care Management plus Monitoring and Review.
This Board also takes evidence and recommendations into account from the  Learning Disabilities Partnership Group.
Parents and service users along with professionals, third sector providers and others contribute in this process and are actively involved in the Learning Disabilities Partnership Group that meets four times a year.
Cardiff & Vale Learning Disabilities Partnership Group (LDPG)
This group consists of representatives from across all areas of service provision including local authorities, health boards, service providers, third sector organisations, service users and carers.
The group considers strategic priorities, identifying gaps in current provision and highlights possible areas that need investment or attention.
Recommendations from the group feed into strategic planning decisions and influence future policy. This group is a key mechanism by which carers and families can have their views listened to and acted upon.
The group encompasses both Cardiff and the Vale of Glamorgan Councils and informs the formal planning process in both counties.
The flowchart below might male things easier to understand: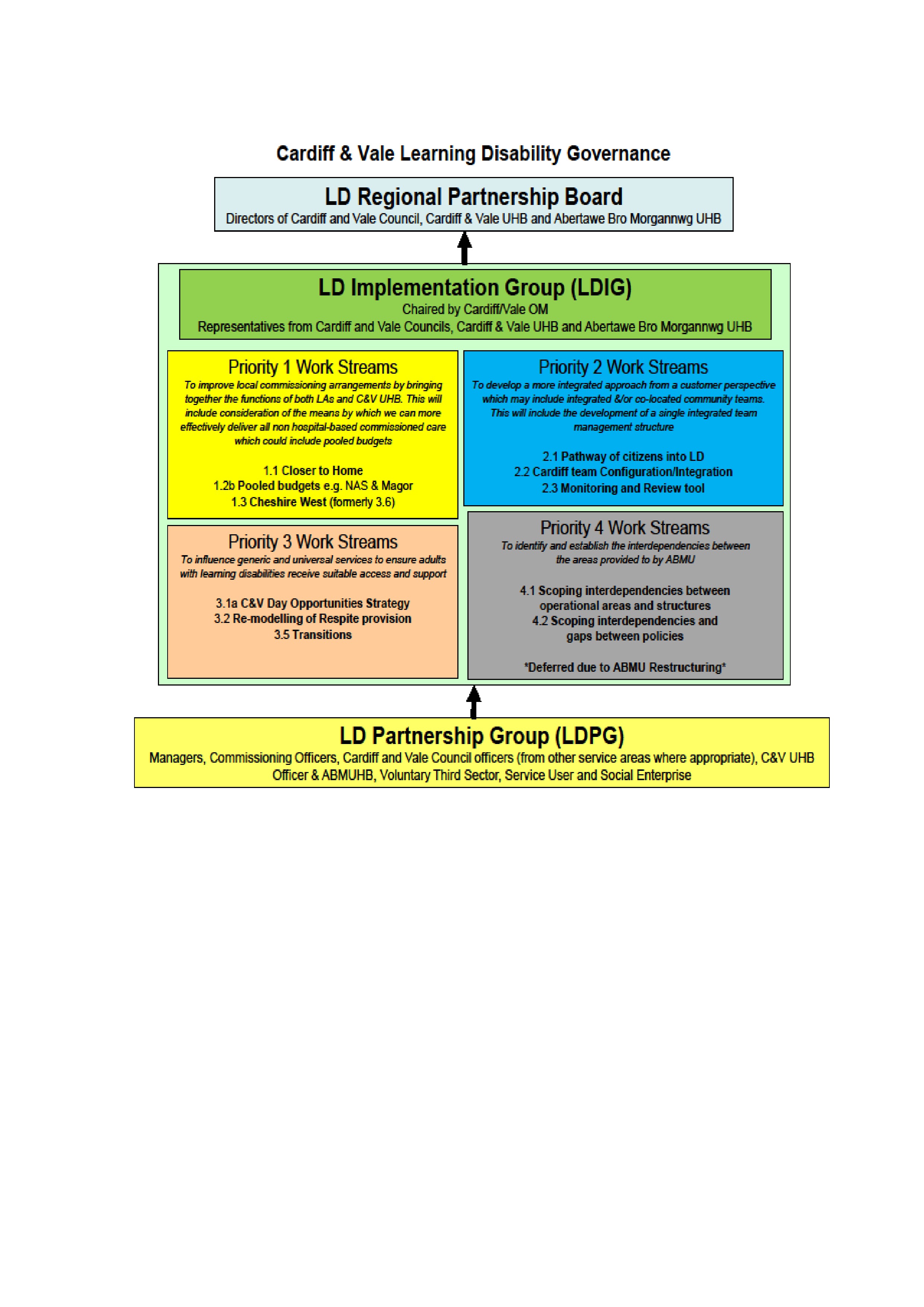 v
No video selected.